>> Tuesday, January 06, 2009
Yeah, yeah. I knoooow. It's Roger Federer... again. If you don't like it, shut up and leave. I missed having tennis actions during the Christmas break, when I had ALL the time to watch games. But tv shows and games have also gone for a winter break. Great. I didn't have CSI, Heroes, Gossip Girl, Pushing Daisies, and House. I didn't have tennis too. Now that tennis is back for the new year, I'm back to my tennis addiction.

These are making me giddy. Seeing people smile sincerely is contagious.



photo by Hassan Ammar
You're my Nike Athlete. I don't care if you have hairy arms and you're five years older than me.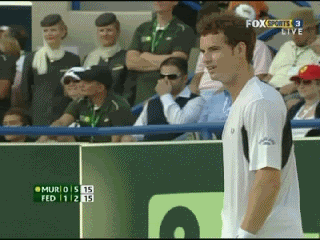 gif courtesy of makeyesworld at photobucket
Mag-side view ka nalang palagi, Andy Murray. Cute pala dimples mo. =)) Ohhhh, Feddy bear is smiling more! He has definitely gotten over his bad attitude on court. Good job!
Dear Rogi and Mirka,
When will you get married? Please get married now.
Sincerely yours,
Yumi